I AM FREAKING OUT. 300? WHAT!!!!???? THANK YOU SO MUCH FOR MAKING THIS POSSIBLE! ❤ ❤ ❤ ❤ ❤ ❤ ❤ ❤ ❤
About two months ago I was writing a post about my 200 followers and I can't believe this moment. Seriously this is so freaking amazing for me. When I started I thought 100 was a lot. I never thought I would EVER make it to 300!
Thank you so so so so so so much! You guys are amazing and super supportive and definitely your amazing feedback sometimes makes my day.
AGAIN THANK YOU SO MUCH! LOVE YOU PEOPLE!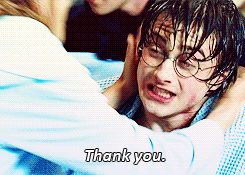 (I love Harry Potter memes/gifs 😀 I know I have an obsession with HP, I just couldn't resist putting 3 HP gifs in one post )